Let's "hybrize" by ourselves!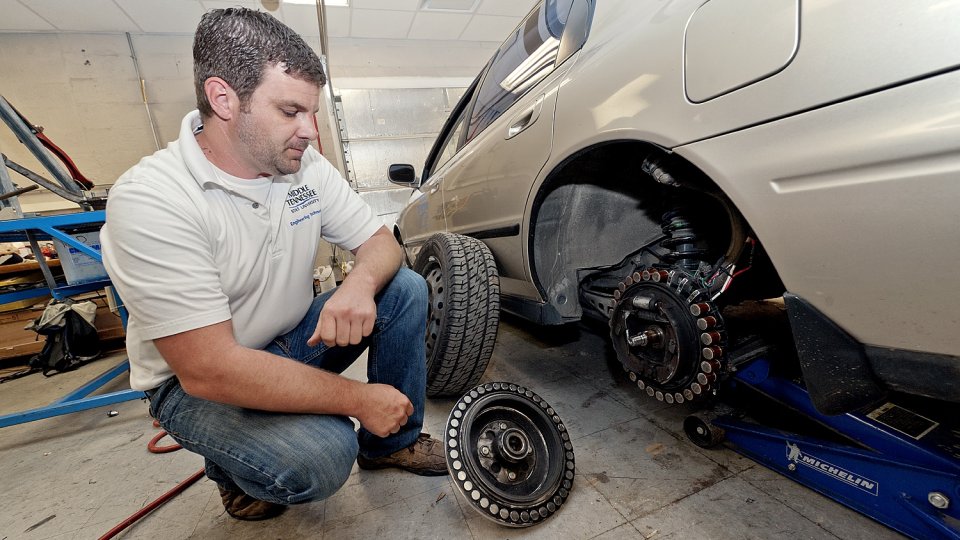 Nowadays there can be already found in the supply of every respectable car factory also the hybrid drive – it's not accidental. But why just the new cars should live with this priviliege? We present a method almost any type of cars can be hybridized with.
The innovative solution – from the idea to the execution – is linked with the name of Dr. Charles Perry, the professor of the Middle Tenessee State University of the USA, who brought his students in the project based on the creativity implied in the youth. The conception is relatively simple: we take a car equipped with a traditional internal combustion engine, dismount it's rear tyres, tinker a little with the two wheel hubs so that we build electric motors into them, mount a proper perfomance battery in the rear part, complement a little bit the control, and we are right away able to cruise greener. The implementation is of course a little bit more difficult, though the invention implies just in that, that the team members forming from engineer students to pro specialists succeeded to develop such a universal process under the direction of master Perry, which is really universal, namely which can be applied independently of the type.
The cost of the rebuilding can be done for an amount of roughly € 2000-2500, the result can be expressed mostly so, that the performance of the generally roughly 50 % efficiency motor can be boosted up to nearly 100 %.
This all has to be imagined so, like a package, which we buy in the shop, go to our mechanic, and he transforms our good old, or just young four-wheeler into hybrid in a few hours. This train of thought belongs nowadays only in the category of naiv dreams, though not only for that reason, because the simple car doctors aren't well prepared for such kind of processes. It's a bigger problem, that the much the conception is worked-out, and is production capable, our professor got to know closerly the situation repeatedly mentioned by the industrial specialists as "the valley of death's shadow", when he planned to change the laboratory circumstances to a production line.
However the idea is fit for life, though as a product, it's still not marketable so far. Well wondering whether why? We have some notions, but we are also curious about the opinions of our readers. We're waiting for the comments!